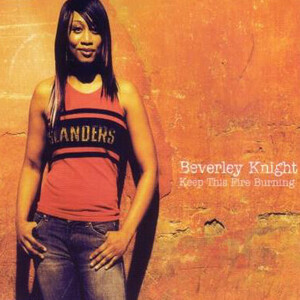 Released: 14th March 2005
Writers: Johan Ekhé / Remee / Robyn Carlsson / Ulf Lindström
Peak position: #16
Chart run: 16-26-35-38-45-58
---
There are rarely any guarantees of a cover version doing justice to the original. But fans of Robyn and Keep This Fire Burning need not have worried because the song could not have been in safer hands than the phenomenally talented Beverley Knight.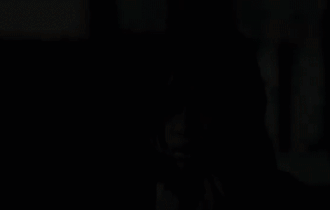 Although a mainstream breakthrough came in 2002 with the gorgeous Shoulda Woulda Coulda – which reached #10 in the UK – Beverley Knight had garnered attention (and awards) long before that. Therefore, her fourth album, Affirmation, was a concerted attempt to translate almost a decade's worth of critical goodwill into commercial success by bringing established hitmakers (most notably Guy Chambers) on board. It was a move that paid off when the album's lead single, Come As You Are, reached #9. However, things went awry with the follow-up Not Too Late For Love, which peaked at #31 despite reasonable radio support. Things weren't going to plan, but Keep This Fire Burning was poised to set the campaign back on track using a strategy successfully employed by Jamelia a few years earlier. She had similarly been perceived as being one killer single away from a major breakthrough, and it came when she recorded Superstar. The track was a chart-topper in Denmark for Christine Milton but relatively unknown elsewhere; to the extent it wasn't widely regarded as a cover in the traditional sense, and very little about the song needed to be changed, other than the vocals. It subsequently reached #3 in the UK and kickstarted a string of top ten hits during the mid-'00s.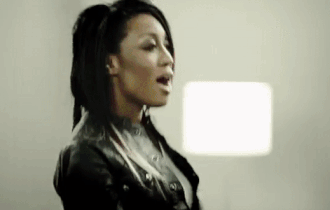 Thus, Keep This Fire Burning sought to follow the same logic, albeit the situation was slightly different because Robyn, of course, had enjoyed some success in the UK and America during the late '90s. However, her blossoming international career ran into a stumbling block following a record label disagreement over the lyrical content of her second album, My Truth (Robyn refused to re-write some of the lyrics, which touched on themes such as abortion). Subsequently, her material was thus confined mainly to Sweden, including Keep This Fire Burning. Released as the lead single from her third album, the track peaked at #3 and became Robyn's biggest hit there for seven years. It also enjoyed modest success in some European countries but didn't make its way to the UK, as was now standard.
Again, the production remained largely unchanged. Indeed, both versions are credited to Ghost (a team who worked closely with Robyn early in her career), meaning Keep This Fire Burning notably retains a quirky syncopated double-beat. As a stylistic choice, it's most unusual in that it gives the impression of there being a glitch in the backing track which is not pronounced enough to sound entirely intentional (though clearly was, having been closely replicated here) yet never subtle enough so as not to be noticeable throughout. How well the effect works is debatable – it's either genius or utterly maddening – but in truth, this wouldn't be the same song without it.
Similarly, although the track is built around a nagging earworm of a chorus, it never runs as freely in the way a pop song might be expected to. Instead, the melody lilts back and forth, using variations on emphasis and rhythm: "I'll be right behind you…keep on…going…in whichever way the…wind is…blowing…I will be there 'til the…world stops…turning…baby I will keep this…fire…burning". The sentiment here may be one of unwavering, underappreciated loyalty, sold with a reassuring warmth in Beverley Knight's tone ("Even when you don't know, I'll be by your side, even when you think you're all alone, I'll be by your side"). However, the unwieldy arrangement and punctuated delivery of Keep This Fire Burning ensures there's always a degree of attitude underlining the performance and certainly never any risk of it being misinterpreted as a soppy love song.
One of Beverley Knight's best qualities as a singer is not just her phenomenal voice, but that she knows precisely how to use it. In the hands of someone with less control and self-restraint, Keep This Fire Burning could quite easily have descended into over-sung showboating. Instead, the increased urgency of the latter verses: "I don't even think you KNOW, HOW far I'm about to GO, IF you put your trust in ME, I'll keep it com-IN-IN', AIN'T nobody stopping ME, WHEN it comes to you and ME, when nothing's like it used to BE, I'll keep it com-IN-IN'", is appropriately measured. There's no doubt Beverley Knight could take things up another notch – you can almost hear some of the vocal riffs urging it to happen – but it's so much more satisfying that she uses the power of her vocals to accentuate and push the melody, rather than betray it altogether.
The music video for Keep This Fire Burning utilises that most reliable of pop music concepts: purposeful walking. Beverley Knight struts into an apartment block and proceeds through a sequence of interlinked rooms where the residents – who apparently don't lock their doors and are unphased by her marching into their property – stop what they're doing and follow her. The dance breaks at each chorus grow with the increasing size of the troupe until eventually…they all reach a dead end, and Beverley Knight closes the song acapella. There's definitely a good idea in here somewhere. After all, what's not to love about a video that can be authentically recreated by stomping through an IKEA showroom? The styling is cool, and the aesthetic does look slick. However, Keep This Fire Burning ends up writing itself – quite literally – into a corner, which feels like a bit of a shame because it serves the song really well until that point. In addition, the property would appear to flout several Building Regulation standards: not least because it's a very long way back to that first room. So, an emergency exit would've been an appropriate (and safety-conscious) way out of this dilemma.
Alas, this single was not quite the shot in the arm Affirmation needed, and despite being another substantial airplay hit for Beverley Knight, Keep This Fire Burning peaked at #16 in the UK. Although the album did return to the top 75, it was only for a matter of weeks and went no higher than #49, having originally reached #11. As welcome as it was to see a song like this charting amidst a swathe of rock, R&B, commercial dance and, er, Elvis Presley reissues, perhaps it was just a bit too out of step for the time. There's also a sense that it was pretty far removed from her raison d'être, and the ambition with Affirmation may have slightly lost sight of the intention. No one would have argued that Beverley Knight deserved to be a more prominent commercial presence in the chart. Still, surely the idea, in principle, had been to take what she was already doing well and amplify it to a broader audience. But that's not what Keep This Fire Burning represents – however good it is – and neither was it entirely clear how Beverley Knight would otherwise have arrived here from the slick, authentic R&B and soul she'd built her reputation on.
Although no further singles were released from Affirmation, the upshot is Beverley Knight's profile was raised enough for a well-timed (and much deserved) greatest hits compilation the following year, which became her first platinum-selling album. Thus, there's a good chance that some people were – finally – discovering cuts from The B-Funk and Prodigal Sista for the first time. If Keep This Fire Burning helped contribute to that, it was a worthwhile diversion. And, even if it wasn't, Beverley Knight performing a Swedepop track is quite frankly an incredible basis for a single that delivers on its promise in every respect.
---