Released: 24th February 2003
Writers: Ainslie Henderson / Sinead Quinn / Malachi Cush
Peak position: #5
Chart run: 5-11-25-44-62-X-X-X-68-66
---
The lukewarm reception to Fame Academy did nothing to stop it yielding a string of hit singles in early-2003, as Ainslie Henderson became the third graduate to launch his career off the back of the show.
To quickly recap, Fame Academy was the BBC's attempt in the early '00s to cut in on the TV talent show boom. It was part-Pop Idol, with the contestants – sorry, students – whittled down week-by-week, and part-Big Brother, as they were otherwise cut off from the outside world and lived in what was ostensibly a boarding school, fitted with cameras that captured all the action. The BBC's angle on the format was to be more than just a karaoke singing contest; this was an attempt to find a 'real' artist with long-term potential and award them a £1 million deal with Mercury Records. Although viewing figures were deemed average – and the concept a little convoluted – the first series did produce a genuinely eclectic group of finalists who felt distinct from their ITV counterparts. Thus, although Mercury made good on signing David Sneddon as the eventual winner, the label also snapped up several other acts from the show, including Ainslie Henderson, who finished in fourth place.
Throughout the series, his persona was probably the one that least fit the conventional TV talent show norm, at the time. He was labelled rebellious – by BBC standards – and there was no doubt that Ainslie Henderson grew frustrated by the critiquing of his performances, which still expected him to look and behave a certain way. It's slightly ironic because the frenetic energy with which he threw himself around the stage wouldn't seem remotely out of place a decade or so later. However, at the time, Ainslie Henderson was offbeat, quirky and had a penchant for short, tight-fitting t-shirts. All of which came together in his brilliant debut single.
Keep Me A Secret was quite literally a product of Fame Academy, having been co-written during the show with fellow students Sinead Quinn and Malachi Cush, both of whom contribute backing vocals. This is a terrific little track by any standard. Still, the absence of an established songwriter (which is not to suggest the trio weren't exceptionally talented) who may have come in to tidy up some of the rough edges gives Keep Me A Secret a real sense of identity. It's a jaunty, folky tale of sexual tension, which is conveyed in a uniquely idiosyncratic manner: "I'm trying not to feel you but, you've just brushed by, and if you dare to cross that line, you know, my toes would step on fire". Ainslie Henderson comes off as incredibly likeable, so that even some of the slightly clunky lyrics ("See there you go again, you're making me mad, 'cos I'm drawn to this danger, oh it's making me mad") fit within the endearingly clumsy, awkward personality he projects.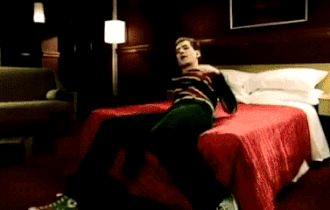 Such moments are few and far between because, for the most part, Keep Me A Secret is masterfully composed and loaded with catchy hooks. The pre-chorus: "One hundred million eyes behind these walls, watching you, hearing you, knowing you…" ascends into a rousing refrain: "Keep me a secret, keep me out your arms, keep my kisses off your lipstick, stop me swallowing your charms". As Ainslie Henderson gets increasingly drawn into the song – with an enthused delivery and punchy ad-libs – there's an anthemic indie-gig quality. You can imagine it absolutely going off in that environment. And therein lies a dilemma because while Fame Academy was instrumental in laying the groundwork for Keep Me A Secret to be created, it also doesn't feel like the right platform where the track can play to its strengths. A 12-date arena tour beckoned after the series and watching Ainslie Henderson play to a sea of glowsticks and cowboy hats entirely misses the point of all the messy, chaotic sexual frustration brimming under the surface here.
At least the music video gets it. Every eccentricity about Ainslie Henderson's style that Fame Academy occasionally sought to quell is amplified ten-fold. He's shown in a hotel room, where a woman (who seems inordinately moody, no?) repeatedly calls the phone, and he fobs her off. Presumably, she would not approve of the women who have joined Ainslie Henderson back in his room for a party and are taking Polaroid shots and rolling around on the bed with him. Indeed, we find out precisely how she feels because one of the revellers answers the phone before another yanks the line from the socket. The woman paces down the corridor and disapprovingly enters the room, where the only incriminating evidence is a solitary photo, which Ainslie Henderson cheekily covers with his foot.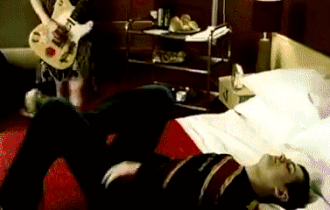 Although the concept itself is spun from a familiar theme, what makes the video stand out is the way it provides a space where he can express himself physically. The way he angularly positions himself and contorts his body (frequently exposing his mid-riff, as per the single artwork) while performing is intensely captivating. Ainslie Henderson wasn't just unique in the context of the TV talent show genre; he was really quite unlike anyone else in the charts.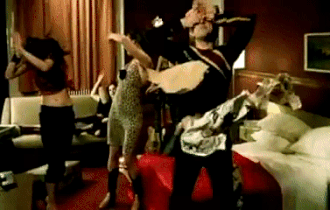 Keep Me A Secret became the third top-five hit to emerge from Fame Academy in as many months when it peaked at #5. Yet, despite it being well-received, this was Ainslie Henderson's only mainstream release. And that's because for all the show was promoted as a showcase for 'real' artists, Mercury Records still had a clear, predetermined path in mind for their acts, which amounted to capitalising on the family-friendly BBC audience. That isn't what Ainslie Henderson had in mind, which ultimately led to an impasse over the material he was working on. He parted with the label and released his debut album – Growing Flowers By Candlelight – independently in 2006. It didn't include Keep Me A Secret, which suggests that even this single might have been seen as something of a compromise.
While further chart success may not have been forthcoming, Ainslie Henderson found other ways to express his creativity. He moved into writing, directing and animating, which earned him a BAFTA for Best Short Animation in 2013 for The Making of Longbird with his creative partner Will Anderson. While Ainslie Henderson's current work is far removed from Keep Me A Secret, it nonetheless represents a perfect outlet for his sideways view of the world that was perhaps just a little too abstract for the music industry back in the early '00s.
It's not often a singer underrates their own material, but that is the unusual predicament Keep Me A Secret finds itself in. You'll rarely hear a bad word said about the song; however, Ainslie Henderson has taken the lyrics literally and doesn't appear to acknowledge it these days. That's a real shame because although he's forged an impressive career, Keep Me A Secret is an outstanding formative example of his talent and much deserving of recognition.
---