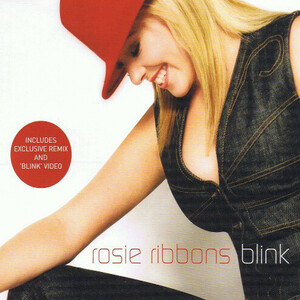 Released: 21st October 2002
Writers: Mick Lister / David Clewett / Ivar Lisinski / J. Boogie
Peak position: #12
Chart run: 12-27-42-69
---
Although Pop Idol was built around the promise of a record deal for the winner, the show was such a success that by the time Rosie Ribbons released a single, she was the seventh contestant to do so in 2002.
Before we even get onto Blink, we should probably remind ourselves of Rosie Ribbons' Pop Idol journey because it hit almost every beat of the now-familiar TV talent show trope. She auditioned with a self-penned number (Colours), got the trademark Simon Cowell: 'Can I stop you there…have you got a second song' treatment and subsequently moved Pete Waterman to tears with a rendition of Mariah Carey's Hero. After breezing through her heat in first place, Rosie Ribbons hit the live shows. That's where things started to go awry as she was an almost constant fixture in the bottom three each week. However, she was winning enough of the public vote to avoid elimination. And then she came up against ABBA.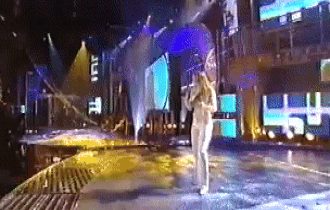 In theory, this should have been one of the easiest themes for any aspiring pop star. Particularly coming hot on the heels of Burt Bacharach week(!). After all, who doesn't regularly belt their way through ABBA's hefty catalogue of signature hits? Hayley Evetts opened the show with a rousing version of Take A Chance On Me before Gareth Gates delivered his doe-eyed take on One Of Us. Then came Rosie Ribbons with a rendition of The Winner Takes It All. And it was spectacularly bad. Although, in many ways, she was simply a victim of the format, which was, at this stage, a glorified karaoke contest with no attempt to re-arrange songs to suit the performer. Like many teens in the early '00s, Rosie Ribbons had honed her style on Mariah and Whitney-esque balladry, using each line as an opportunity to cram in as many notes as possible. But that isn't The Winner Takes It All, and so she stood on stage – bopping awkwardly to the plonky backing track – and followed the age-old rule: if you think you're going out of tune, just sing louder and hope no one notices. Except they did notice, and Rosie Ribbons was promptly voted out of the competition in sixth place with a parting promise from Pete Waterman that he was still willing to work with her.
While Pop Idol may not have served her well in one respect, it did give Rosie Ribbons a second chance that – realistically – she probably wouldn't have had at any other time. The show was a phenomenon that gripped the nation in a way that Popstars hadn't, thanks to the fact that the audience was now in control. Will Young emerged victorious, but Gareth Gates, Darius Danesh, Zoe Birkett, Jessica Garlick, Rik Waller and Sarah Whatmore all released material in the aftermath. Presumably, the logic being that they might not have pulled in enough votes to win, but if even a fraction of them translated into record sales, then that was still enough to generate a moderately successful hit single. And it did. Thus, the narrative that surrounded Rosie Ribbons on Pop Idol was more than enough to justify a label signing her because it was clear that she had potential, despite her infamous exit.
However, the (re)launch of Rosie Ribbons wasn't necessarily going to appeal to the same ITV demographic. And thank goodness for that. If she had signed to Sony BMG, then there's no doubt whatsoever that they would have had her singing gentle '90s ballads. But instead, she was picked up by Telstar, who had their eye on something more current and cast Rosie Ribbons in the mould of the teen pop princesses who dominated the charts in the late '90s/early '00s. Thus, Blink takes its lead from Irresistible-era Jessica Simpson (funny that…), and it is brilliant.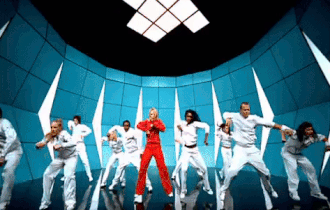 The track is immensely entertaining on every level. Primarily because of the utterly chaotic energy it exudes. This is ostensibly an attempt to emulate the production hallmarks of Darkchild or Jimmy Jam and Terry Lewis, but rather than borrow from one song, in particular, Blink tries to do the whole lot at once: record-scratch vocals, a juddering synth bassline, the sound of glass-smashing, a rapper muttering away in the background ("Let me see you blink, c'mon"). There's no way around the fact that the entire concept is every bit as ridiculous for Rosie Ribbons as it was for Jessica Simpson's second album. Yet there is such conviction in the way Blink is assembled and delivered that somehow, the whole thing succeeds not in spite of the sheer absurdity but because of it.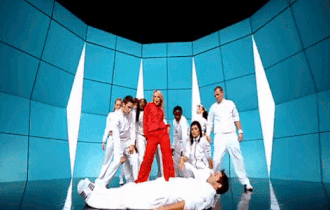 Rosie Ribbons plays the part of the wronged girlfriend so well, spitting out the lyrics with pure vitriol. It's hard not to smirk at some of the barbs: "Saw your eyes take a trip, goin' south, she replied, made a bump in your zip, don't you try, try to hide, this time, uh-oh", but then what is pop music if it doesn't make you grin from ear to ear? Which is precisely what Blink does. And even though the track makes no qualms about prioritising style over substance, there is some real quality here. The pre-chorus: "'Cos you're diving into trouble, and you're deeper than you thi-i-ink, maybe this time I'm gonna let you si-i-ink" is a superbly crafted little hook; while the chorus itself: "As soon as I blink, you're playin' around (ah-ah you're guilty), it's makin' me think, you're not the man, 'cos you're dissin' me, you're pissing me off" is loaded with improbable swagger. Sure, the song is a little clunky in places, but it is undeniably catchy.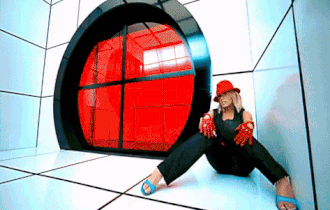 The only questionable aspect of Blink is whether this was truly the best showcase for Rosie Ribbons' talent, and that is mainly dependent on what you wanted from her as a pop star. Going down the same route as Will Young and Gareth Gates would certainly have presented the opportunity for her to warble her way through a collection of standards. However, this is infinitely more interesting. And while Blink is not necessarily a singer's song, it's still evident throughout that Rosie Ribbons is a better vocalist than is demanded of her. The track is peppered with riffs and ad-libs that elevate it to be far more than it would in the hands of someone less able.
Given Blink had such a clear vision of where it wanted to fit Rosie Ribbons into the chart landscape, the accompanying music video pulls absolutely no surprise. In fact, it pretty much takes the Hype Williams et al-template and delivers a scene-by-scene recreation. The dance sequences are staged in a vivid coloured, angular dome, and there are – of course – transparent close-ups of a blinking eye used to frame some of the shots. The saving grace here is that Telstar were famously generous with the money they put up for their acts (something that would eventually be the label's undoing), and so Blink does look the part. The aesthetic is polished, and Rosie Ribbons' styling – with red hat and gloves – is really cool. This is a world away from most of the other post-Pop Idol debuts who characterised their target audience as wanting something safe and pleasant. For better or for worse, Blink does no such thing.
This single peaked at #12 in the UK, which was, on balance, probably a tad disappointing for Telstar, who were clearly hoping to position Rosie Ribbons as a contender in the teen pop market. It was a good attempt, as well. But the problem was that this kind of derivative Britney Spears material never sold quite as well as record labels seemed to think it would and tended to hover around – or occasionally scrape into – the top ten. So, Blink performed fairly consistently in that regard. How much Pop Idol benefitted Rosie Ribbons is debatable because although it had undoubtedly given her a platform, she now had an entirely different identity and sound. The song she originally auditioned with – Colours – was included as a B-side on the single; however, it's hard to imagine that anyone desperately yearning for that Rosie Ribbons was going to buy Blink.
Nonetheless, this is one of the few tracks to emerge from Pop Idol that authentically delivered on the supposed premise of the competition. Indeed, if you were to judge all of the show's alumni by their debut singles, as an entire package, this is easily the one that most looks like the arrival of an A-list pop star.
---