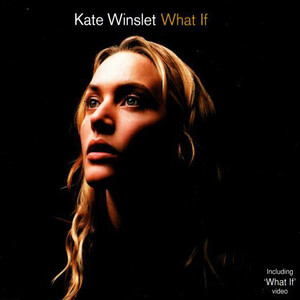 Released: 26th November 2001
Writers: Steve Mac / Wayne Hector
Peak position: #6
Chart run: 6-8-11-11-9-8-16-17-25-25-23-32-47-60
---
Kate Winslet has many accolades to her name, but oft-overlooked is the fact that she is a proper one-hit-wonder. What If is her only entry on the chart, but don't let that fool you, because this a ballad of epic proportions.
From the start, Kate Winslet was very clear that she was not attempting to launch a pop career with What If. It was instead an extension of her current project Christmas Carol: The Movie (the title is not prefixed with 'A' for some reason…), which re-told the classic Charles Dickens tale as *checks notes* an animated love story? Okay then. In this version, Kate Winslet plays the role of Belle, Ebenezer Scrooge's former fiancé whom he seeks to win back by learning valuable life lessons with the help of the Ghosts of Christmas Past, Present and Future. This fresh perspective allows the movie to expand the perspective of the supporting characters, with Belle able to express her curiosity about what might have been via the medium of song. All of which would have been fine, except Kate Winslet was never expecting to sing and was quite happy for Belle's voice to be dubbed by a 'proper' singer if her efforts did not suffice.
Thankfully if there was a plan-B, then it wasn't necessary, because Kate Winslet was remarkably modest and did a cracking job. What If wasn't exactly a timid song; this is a huge, soaring Disney-esque ballad and there's nowhere to hide on it. The whole situation was cleverly played on both sides. For you sense that if Kate Winslet had been approached to record "the soundtrack single" to the movie, she would have flatly refused. But having been persuaded to sing as an extension of her role, there wasn't much going back when it was decided that What If would be released commercially. However, Kate Winslet was nothing if not astute and – recognising that there would be a degree of curiosity around it – agreed to the single on the understanding that the proceeds from it went to charity.
Kate Winslet might have humbly declared that while she could hold a tune, she definitely wasn't a singer. Yet, there is ample evidence within What If to contradict that statement. It's certainly true that there is an air of cautious reservation in the way that the song unfolds; the first minute or so feels very delicately and carefully performed as though Kate Winslet has quite literally never heard herself sing before. It gives the track real character; indeed, for the most part, What If sounds almost like an audition, such is the untypically muted – and almost demo-like – production for this period of pop music. The result is a song that is utterly and endearingly charming.
Indeed, despite her protestations, Kate Winslet does much more than merely tiptoe through the song, and it doesn't take long for her to drop some subtle vibrato: "Do you think how it would have be-e-en sometimes, do you pray that I'd never le-e-eft your side". The track is built upon a series of gentle hooks which aren't necessarily immediately impressionable but collectively allow What If to nestle comfortably in the psyche. The ebb and flow of the: "If I'd stayed, if you'd tried, if we could only turn back time" section in the chorus is a perfect example of pop music at its classiest.
Things do get a little more involved towards the middle-eight: "If only we could turn the hands of time, if I could take you back would you still be mine". With a rousing electric guitar instrumental, it's a genuinely stirring lighters-in-the-air moment, which is offset brilliantly against the fragility of the reprised pre-chorus: "'Cause I tried, but I had to draw the line, and still this question keeps on spinning in my mind…". Of course, it's all a knowing tease that sets the scene for – what else – but the key-change to end all others. If there was any trepidation at the start of the song, it's long gone by this point as Kate Winslet delivers a showstopping finale. This would be pure confetti-falling-from-the-ceiling X Factor winners' single territory – if the X Factor was a thing at that point.
Although Kate Winslet was a reluctant pop star, she did at least film a music video for What If. Sensibly, it doesn't see her do anything particularly jarring and instead draws vague parallels with A Christmas Carol as she rummages through a Dickensian mansion while ghostly apparitions wander around her. It could easily be a sequence lifted from a live-action musical, with some grand shots that sweep and rotate around Kate Winslet as she emotively performs the song. The video even appears to squeeze in some nods to her other work. At one point she presses her hand against a mirror, leaving a print on the surface, which is immediately reminiscent of that scene in Titanic (this is supposed to be a family-friendly movie!).
Inevitably, the visuals are frequently interspersed with clips from Christmas Carol: The Movie, but they're easily the least interesting part. A significant criticism of the film was the hand-drawn art-style and what we see here does nothing to disprove that; it looks incredibly bland and aptly explains why audiences were increasingly flocking to the vivid computer-animation of Pixar. Leaving that aside, however, the video is a success in as much as it complements Kate Winslet's role as Belle and doesn't try to misrepresent what she is doing here.
Arriving around the time that Nicole Kidman was gearing up to score her second chart entry of 2001 (was there something in the water?), the press tried to whip up some interest in a Christmas chart battle. But it was always a bit of a non-starter; not because What If wouldn't have been a very worthy contender, but because Kate Winslet appeared to have made a conscious decision to remove herself from the race. The single was released several weeks before the other contenders and any promotion was focused mainly on Christmas Carol: The Movie. There were no high-profile TV performances of the song or anything that could be misinterpreted as Kate Winslet testing the waters to launch a pop career. But the song was a hit, peaking at #6 in the UK and spending two months in the Top 20. Considering the so-so performance of the movie, What If crossed over to a certain extent and reached a wider audience. It almost got its reality TV moment as well when it was performed on Britain's Got Talent in 2010 and re-entered the chart at #76.
Regrettably, What If hasn't quite attained the level of recurrent festive success that it deserves, although that's (probably) because Christmas Carol: The Movie didn't either. We urge you to start streaming it this – and every subsequent – year. Not because of the novelty of Kate Winslet singing, but because What If is a genuinely terrific ballad that deserves heaps more recognition and plaudits than it ever received at the time.
---