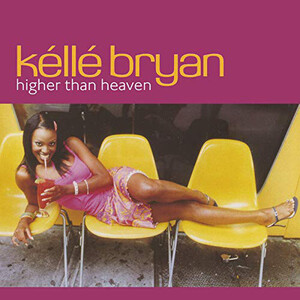 Released: 20th September 1999
Writers: Alan Glass / Jodie Wilson / Laura Pallas
Peak position: #14
Chart run: 14-33-43-71
---
After enjoying a four-year run in Eternal, Kéllé Bryan suddenly found herself going solo having been dumped from the group via the medium of fax (how very '90s). And just before her former bandmates could make their next move, she pipped them to the post with her debut single Higher Than Heaven.
Despite presenting a united front following the departure of Louise, tensions simmered behind-the-scenes with Eternal. Kéllé Bryan's grew increasingly distant from Easther and Vernie Bennett to the point where she was recording her vocals separately from the sisters. Her eventual departure from the group was, however, a curiously low-key affair. The trio had always focused more on creating music than tabloid personalities, but having only recently landed their first #1 single, it felt like a(nother) line-up change should have been a bigger deal. Perhaps the presumption was that having released a greatest hits compilation, a split was inevitable anyway. After all, this was the '90s. So, while the arrival of Higher Than Heaven was perhaps not feverishly anticipated, it was nonetheless, a pleasant – and very welcome – return to the chart for Kéllé Bryan.
Sensibly, she didn't veer too far from familiar territory with this song; it sticks to a gospel-pop sound but is different enough that it's not merely Eternal-with-two-less-members. And credit where it's due, this was not an easy route to choose as a solo act. Released at the height of the bombastic '90s, there was no clearly defined mainstream market for a track like Higher Than Heaven. Therefore, you sense that the driving force behind Kéllé Bryan's solo debut was a love of the music she was singing rather than the commercial success it might enjoy. Although she still depended on the latter.
The production of the track feels very consciously lightweight; how could it not be with a title like Higher Than Heaven? It's a complete contrast to the squelchy Swedepop and disco melancholy that was dominating the charts at the time; instead, this is an uplifting anthem of praise and celebration. Sensibly, it positions itself as a not-quite-love song with subtle religious undertones. There's a degree of ambiguity in the lyrics: "With you I'm complete, feels so right, don't ask me why, no-one can change me, you're the one that takes me higher". There was enough of a spin on the track for Kéllé Bryan to promote Higher Than Heaven via the usual mainstream media outlets, but it would have served her equally well had she wanted to focus on the Christian contemporary market.
And there are parts of the song that feel better suited to that audience. The vocal arrangement was somewhat unconventional at the time, if not for a gospel track, then certainly for a pop song. Outside of the verses, it almost sounds as if Kéllé Bryan has simply been pushed to the front of an ensemble gospel performance. There are benefits to this approach, mainly where the gospel choir can dig deep and bring some soul to the hooks, like the: "Shaking me, making me, taking me, higher and higher than heaven, higher than heaven" middle-eight. The risk for Kéllé Bryan is that she'd end up getting lost; after all, this is supposed to be her showcase. However, after a few listens, you start to appreciate the quality that she brings. Not so much from the core melody – because the choir does a lot of the heavy lifting there – but in the ad-libs. Her voice dances around the chorus, with a warm tone that hits right to the heart (the: "You're taking me" at 2:46 is so, so perfect). Yet, impressive as her range is, Higher Than Heaven is about so much more than how loud or high Kéllé Bryan can sing. This is a debut loaded with technicality and nuance; whether that was the right approach given the immediacy with which pop music was judged in 1999 is debatable. But there's no doubt that it's right for the type of song that this is, and it remains an absolute joy.
The music video for Higher Than Heaven is a boldly modest affair, which sees Kéllé Bryan – and a posse of extras/backing singers – seated around a table performing the song while she occasionally makes eyes at a not-exactly-unattractive gentleman. There's something warmly wholesome about the whole thing; it reinforces the togetherness of the music and benefits hugely from the fact that at its heart is a singer who's honed the art of being a pop star. It's two minutes before Kéllé Bryan gets out of her seat, but up until that point, she's still able to work the camera. If she was feeling tentative about stepping out on her own, then it's not remotely evident from her performance in the music video. In that sense, the latter half of the video feels slightly compensatory, as Kéllé rudely interrupts everyone's dinner by getting onto the table to deliver some high-kicking, hip gyrating choreography. Whether this was a true reflection of the sort of artist that she wanted to be is questionable, but if nothing else it gave Higher Than Heaven some visual cues consistent with that era of the charts. The best shots, however, remain those where Kéllé Bryan is simply able to perform to the camera; that is where her personality and presence shines through.
Although their working relationship may have become untenable, Eternal were (commercially) stronger together than they were apart. But in the aftermath of their split, Kéllé Bryan fared marginally better than her former bandmates. Higher Than Heaven peaked at #14 in the UK, while Eternal's first single as a duo – What'cha Gonna Do – reached #16 a month later. It seemed at the time that perhaps this was simply a case of the moment having passed since neither act released a follow-up. But in Kéllé's case, there was a bit more to the story. In the years since, she has spoken candidly about her battle with lupus, which began around the time that she was attempting to strike out as a solo artist. Despite her determination not to be defined by her illness, it was challenging enough to complete the recording of Higher Than Heaven, let alone the music video and promotional performances. A follow-up single called I Wanna Know was cancelled shortly before release so that Kéllé could focus on her health. Knowing the personal struggle that was occurring behind-the-scenes casts his track in a different light. That it even exists is an accomplishment in itself, and Higher Than Heaven must surely be one of the most hard-earned #14 singles in chart history.
While Kéllé Bryan never made a return to the charts, Eternal did re-form as a three-piece for the second series of ITV2's The Big Reunion in 2014 where the details of their fallout were exposed – fax and all. More recently, Kéllé has become a fixture on television as a regular panellist on Loose Women and in the role of Martine Deveraux in Hollyoaks. Her time as a solo artist may be short, but Higher Than Heaven is a superb song to start – and end – her musical legacy.
---