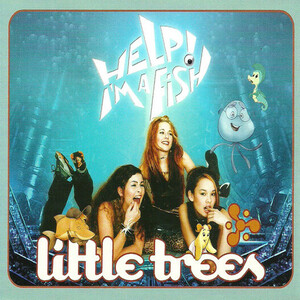 Released: 20th August 2001
Writers: Jesper Winge Leisner
Peak position: #11
Chart run: 11-14-20-27-37-51-66
---
Life beneath the ocean has long been a source of inspiration for pop music, from Oscar-winning soundtracks (Under The Sea) to maddening viral phenomena (Baby Shark). But at the turn-of-the-century, it was Little Trees who burst into the charts vying to score the latest aquatic-themed hit.
The premise of Help! I'm A Fish (I'm A Little Yellow Fish) seemed fairly straightforward; it was released as the soundtrack from a minor animated movie of the same name (minus the unnecessary parentheses). But appearances can be deceiving, and there was an oddly convoluted tale here. The film was subject to a protracted development period having been revealed in 1996 via a pilot trailer that was vastly different from the finished product. When Help! I'm A Fish was released in Denmark four years later, it was accompanied by a version of this song performed by the Danish duo Creamy (which peaked at #3 in the charts there). The following year, the movie was picked up for international distribution and re-dubbed in English. A soundtrack single again followed in tow, but this time it was performed by a different Danish act: Little Trees. Why? Just because. The two versions of the song are nearly identical; the artwork is strikingly familiar (the Help! I'm A Fish logo is brilliant, by the way) and even the videos are related in theme, if not execution. To confuse matters further, there was also a Dutch version titled Blub, Ik Ben Een Vis! recorded by K3, which surely marked the point where things were spiralling out of control.
Although the lyrics of the song vaguely follow the plot of Help! I'm A Fish (the fish is orange not yellow, but that's a minor quibble), they're equally abstract and self-contained enough for the track to work without the listener having any knowledge of the movie: "Do you wanna take a whale bus, wanna meet a stupid shark, do you wanna ride a seahorse, or hide in an oyster park". In some respects, it's almost a shame that the primary purpose of this single was as the soundtrack to a movie; with a tad more freedom to assert its own identity, Help! I'm A Fish (I'm A Little Yellow Fish) could have turned the more fantastical, visual lyrics into a genuine novelty party hit. The pre-chorus: "It wasn't such a big commotion, all you need is magic potion; with a wriggle, a twist, a splash and a splish, you're a fish, help me" feels like it's begging for an easy-to-follow dance routine that could be recreated at kids parties, family discos and nightclubs alike.
Alas, while the track never tries to downplay its wackiness, neither does it fully embrace the potential lying right there in front of it. The chorus is the perfect earworm: "I'm a little yellow fish in the deep blue sea, won't somebody help me, I'm a little yellow fish in the deep blue sea, won't somebody save me". Help! I'm A Fish (I'm A Little Yellow Fish) mercilessly whacks the listener over the head repeatedly with an expertly crafted hook. Still, such is the masterful execution – and buoyant joy – exuding from the song that it never ceases to be a gratifying experience. That's in part thanks to the vigorous production; Ole Evenrude had recently worked with the A*Teens, and it shows because Help! I'm A Fish (I'm A Little Yellow Fish) is imbued with the same irrepressible energy. The backing track bubbles away with some subtle synths, all the while whooshing, fizzing and popping excitedly through each transition in the track. The addition of some terrific: "Wo-o-o-n't somebody SAVE ME" ad-libs layered into the final choruses add further depth still. For what is ostensibly a quirky, recycled tie-in for a budget movie, it's really well fleshed out and far more enduringly charming than it has any right to be.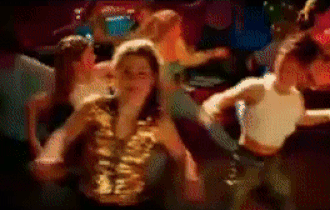 The music video for Help! I'm A Fish (I'm A Little Yellow Fish) makes a solid attempt at pitching Little Trees – and the song – at an international market. While Creamy's version took the obvious, literal route of having the duo jump into the sea, Little Trees' version feels a bit cooler. Well, as cool as this track could ever hope to be). It's more attuned to the Americanised aesthetic of the bubblegum pop market, set at a party and featuring lots of blue-filtered lighting to remain on-brand. It still ties in with the movie as the group consume a magic potion (no good was ever going to come from someone bringing unlabelled laboratory flasks to a party). However, they don't transform into fish – for budgetary reasons, presumably – and instead, float around in mid-air/water until they're turned back. The video attempts to establish some choreography to accompany the chorus, but it's so frequently interrupted with clips from Help! I'm A Fish that you never see enough of it to give the track a life of its own on the dancefloor. It's a real shame because the aerobic dance sequences look like a lot of fun. And if nothing else, it'd be interesting to see how strumming an air guitar relates to the line: "…in the deep blue sea". Unfortunately, it's so chopped up that we'll never know…
In terms of Help! I'm A Fish's commerciality, it's fair to say that the noughties was a good time for animated aquatic-themed movies. Both Finding Nemo and Shark Tale topped the UK box office later in the decade, the latter generating its own hit single. But in 2001, fish were not so fashionable; the week that Help! I'm A Fish hit cinemas, it was outperformed by Planet Of The Apes, Cats and Dogs, Jurassic Park 3, Dr Dolittle 2­ and – just to rub salt into the wound – the action/thriller Swordfish. Yet, despite the modest success of the movie (which was understandable given it was distributed independently), Help! I'm A Fish (I'm A Little Yellow Fish) performed surprisingly well as a soundtrack single. The track peaked at #11 in the UK and spent three weeks in the Top 20. If not for the fact that their titles are identical, it wouldn't be unreasonable to conclude that the song wound up being better known than the film from which it was lifted.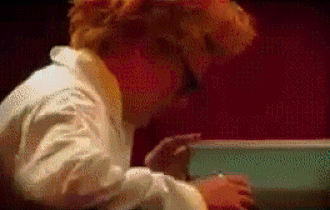 The weird thing about Help! I'm A Fish (I'm A Little Yellow Fish) is that it often feels like a figment of the imagination, to the point where you might doubt that it ever actually existed. There isn't a single element of the entire package that endured in any meaningful way beyond this song; the movie wasn't a huge success (and there is something generically 'direct to VHS' about its animation style), Little Trees didn't release a follow-up here and the song never quite attained the status of enduring in its own right. If you've ever woken in the middle of the night and wondered whether Help! I'm A Fish (I'm A Little Yellow Fish) was nothing but a hazy dream, rest assured. It was real, and it was oh so brilliant.
---