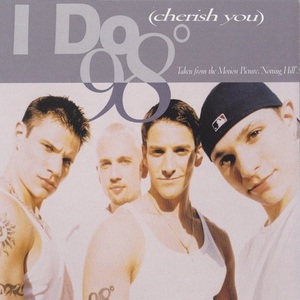 Released: 12th July 1999
Writers: Keith Stegall / Dan Hill
Peak position: N/A
Billboard Hot 100 chart run: 66-47-37-28-21-19-18-13-13-15-18-17-17-17-21-21-23-27-48-56
---
The topic of love and living happily ever after was commonplace within boyband balladry, and 98 Degrees were no exception. However, I Do (Cherish You) takes that concept several steps further. All the way down the aisle, in fact.

98 Degrees were fractionally older than their boyband peers, but not enough to make this any less an exercise in optimistic forward-planning. This is a song that does not attempt to hide its desire to be a modern wedding standard. Except it's highly unlikely that many fans of the group needed the track for that purpose back when it was released. But I Do (Cherish You) was not composed with a boyband in mind. It started life the previous year as a country song performed by Mark Wills and had achieved modest success on the Billboard Hot 100, peaking at #72. The decision to reinterpret the song as a pop hit was, therefore, not entirely without merit for 98 Degrees, who had a strong presence in the adult contemporary market.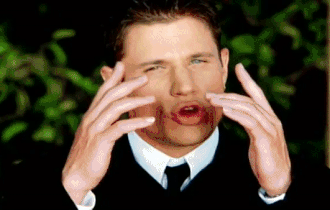 Their version of the song received a further boost when it was included on the soundtrack for the movie Notting Hill. Until this point, the group's commercial presence had primarily been confined to America, so this was a real coup and had the potential to catapult their profile internationally. Well, it might have done if not for Another Level and Ronan Keating whose tracks were bumped up the soundtrack in the UK and released as the main singles. Alas, I Do (Cherish You) was subsequently overlooked in most territories.
If you're not a fan of gloopy pop balladry, then I Do (Cherish You) is not going to change your mind on the matter. Then again, if a track whose lyrics occasionally read like a series of nuptial declarations ("All I am, all I'll be, everything in this world, all that I'll ever need") can't be a tad schmaltzy then what can? It would seem harsh to criticise the single for sounding the way it does when that's literally the point. It's a gentle, dreamy affirmation that tugs on the heartstrings. Just try not to feel envious (or imagine yourself walking down the aisle) as the verse gently swells towards the chorus: "Your hand brushes mine, and a thousand sensations, seduce me 'cause I…". Singing about love is one thing but being able to make a song sound like the feeling it's conveying is quite another, yet that's precisely what 98 Degrees manage to do with I Do (Cherish You).
If you're not already mentally planning your wedding by the time the song reaches it's final chorus, then you certainly will be as it strides into a soaring key-change: "If you're asking do I love you this mu-u-u-uch, baby I DOOOO…". Sure, the crescendo can be seen from a mile off, but that makes it no less effective. The pounding drum beats, hearty finger snaps and layered backing vocals bring the song to a suitably stirring climax perfectly befitting of the newlyweds' first dance. Importantly, I Do (Cherish You) manages to avoid becoming contrived or overwrought; there's an aura of blissful – almost ethereal – calm throughout. It's delivered with a measured restraint that projects emotion without ever feeling over-performed.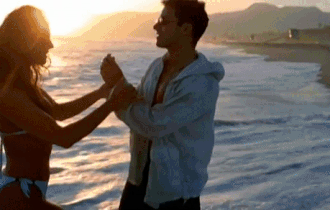 Indeed, this single is a tremendous showcase of 98 Degrees' talent. What the group – and Nick Lachey in particular – had over their rivals was soul. There's a rich, smooth maturity to the vocals that belies their age and makes every single word sound utterly believable, which is probably why they were the best suited among their contemporaries to handle a song like I Do (Cherish You). But whether that was enough for a casual audience to differentiate 98 Degrees is questionable, and their unfortunate inability to connect in the UK suggests it probably wasn't. However, for boyband aficionados, the group certainly managed to find their own corner of a very crowded marketplace.
Considering how very literal I Do (Cherish You) is, the music video – unsurprisingly – shows similar commitment to the theme. We have shots of a bride walking down the (very glamorous) aisle, while 98 Degrees are decked out in their finest suits. But wait…something doesn't feel quite right. The four members of the group are all serenading the same bride. Furthermore, we see flashbacks to each of them proposing to her (a convenient opportunity to have members of the group remove their shirts and flaunt their impressive abs). The majority of the video, therefore, plays with the intrigue of who the mystery groom is and how the four plot strands are going to tie together before something extremely unorthodox – and a little bit illegal – occurs. The big twist comes as the track screeches to a halt revealing that the man stood at the altar is…Dustin Diamond (aka Screech from Saved By The Bell). It's clear what they were trying to do, and it does introduce an element of subversion into a product that otherwise plays exactly to type. But considering the sincerity with which every other aspect of I Do (Cherish You) is packaged, ending the video on a weird comedy-meta note feels puzzlingly disjointed.
The single was a reasonably big hit for 98 Degrees in America. It didn't quite match the top five success of their previous singles, but peaked at #13, which is pretty good going for a song that had been a major country hit just the year before. It was the final release from the group's second album 98° and Rising (full marks for the title) and helped it remain a consistent seller for the duration of the year. Based on the success – or lack of – achieved by 98 Degrees in the UK, it's understandable that their record label didn't bother with I Do (Cherish You) here. But equally, it could have been the best shot at generating a hit, even after being cruelly shunted down the tracklist for the Notting Hill soundtrack.
All the same, the relative anonymity of the song here at least means fans of 98 Degrees – or soppy boyband balladry in general – can still enjoy the hazy romanticism of I Do (Cherish You) without the burden of it being an overplayed wedding march.
---