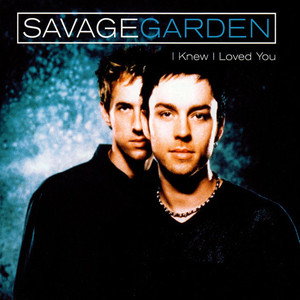 Released: 1st November 1999
Writers: Darren Hayes / Daniel Jones
Peak position: #10
Chart run: 10-19-23-34-41-60-73-61-70-62-56-63
Billboard Hot 100 chart run: 71-48-43-31-20-13-7-6-4-4-5-6-4-2-1-1-1-2-1-2-4-8-8-12-14-17-21-24-30-34-37-46-47
---
What would commercial radio do without Savage Garden? In their short two-album career, Darren Hayes and Daniel Jones produced an impressive number of airplay staples that have continued to prop up the schedules.
For I Knew I Loved You, we found Savage Garden in a position where – having topped the Billboard Hot 100 with Truly Madly Deeply from their debut album – their record label wanted another chart-topper from their second. Recording for the Affirmation album had already been completed, and the duo were reluctant to start re-treading former glories (although the '90s was the point where you could get away with that). However, they relented on the basis that the album lacked a big love ballad. Considering I Knew I Loved You is a song that Savage Garden never intended to write, and indeed only did so under duress from Columbia Records, it's rather remarkable that it's as good as it is. It's aimed squarely at the Adult Contemporary market, of course, but with enough pop sensibility to achieve a much broader appeal beyond. In other words: this is the sound of every girl-gets-the-guy moment in every '90s teen movie, all rolled into one. Is it a little bit weird – from a lyrical standpoint – to declare you love someone before you've even met them? Well, sure. But we've always taken it a little more figuratively. The concept of soulmates is perhaps a little more digestible, and that's essentially what I Knew I Loved You is about.
Where it improves – quite notably – on Truly Madly Deeply for us is in the production. Expertly helmed by Walter Afanasieff, the song has worn much better over the last two decades. It's still of its time; but that's more because no-one makes gloopy pop ballads like this anymore (for shame), rather than anything that is glaringly dated about the sound. Afanasieff had been brought on-board for the Affirmation album, and his addition gave Savage Garden's sound that finishing touch; the songs sounded a little slicker, a little glossier and very ready for an American audience. Most importantly, they maintained a reasonably eclectic sound within the genre; it certainly wasn't a ballad-heavy effort. Although we can understand why that may be a common misconception when tracks like I Knew I Loved You were so expertly crafted to become signature hits and dominate the airwaves.
But there is much more to it than the production alone. The hooks are reassuringly comfortable; there was an immediate familiarity about the song. Importantly that's not because it sounds like a brazen copy of a previous single, however much it was distinctive within Savage Garden's oeuvre. What makes I Knew I Loved You stand out is the performance. We would say – with little hesitation – this is our favourite vocal that Darren Hayes delivered. Before he went solo, at least. His voice is extraordinarily versatile, and there's an ethereal heavenliness to the gentle production that only truly becomes special when joined by his falsetto. Indeed, once the key-change strikes (of course there's a key-change), I Knew I Loved You is so otherworldly it's almost like having an out-of-body pop experience. The sustained falsetto is stunning and sounds utterly effortless, particularly in the vocal runs during the last minute of the song. While we wouldn't necessarily say that Darren Hayes' talent went unrecognised, it was undoubtedly taken for granted in some respects. So, right now, we're just going to make the point that this is an incredible pop performance by almost any measure.
The music video for I Knew I Loved You could almost be a movie concept in itself, which is quite apt considering it was so perfectly designed to be the song that swells out of nowhere to soundtrack a romantic moment (it doesn't appear to happen in real life as it does in the movies though – trust us, we spent most of our naïve youth waiting for it to happen). Starring a young Kirsten Dunst, the concept sees Darren Hayes chance across her while on the subway and become immediately infatuated. When their train breaks down, he reaches out to hold her hand, and we're treated to a brief flash-forward of their life together. Such a concept now would probably be more psychological thriller than romance, but this was the '90s, and it fit the overall sound of the song very well. Particularly the shots of Savage Garden as a duo, bathed in heavenly-white light.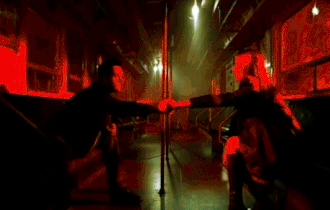 In America, this single very much became a signature hit for Savage Garden. That's perhaps unsurprising since it was explicitly crafted to repeat the success of Truly Madly Deeply there, which it did. On this occasion lightning did strike twice when I Knew I Loved You rapidly climbed the Billboard Hot 100, eventually spending four non-consecutive weeks at #1. It was also a substantial Adult Contemporary hit, amassing a total of 124 weeks on that chart. Extraordinarily, it was an improvement on the 123 weeks that Truly Madly Deeply had racked up. We know that chart records were falling all over the place in the late '90s, but it never felt that Savage Garden got much recognition for things like – oh, you know – two of their songs spending a combined total of more than four and a half years on the chart (Adult Contemporary or otherwise). In the UK, the response to I Knew I Loved You was comparatively muted; although, any other chart performance would be by America's standards. I Knew I Loved You single peaked at #10. Indeed, the Affirmation project as a whole got off to a bit of a slow start; it didn't crack the top ten until mid-2000 but continued to enjoy success well into 2001.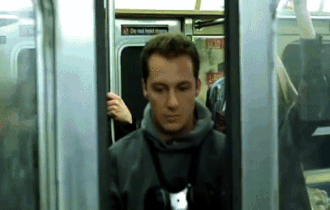 Despite that, I Knew I Loved You still had a strong radio presence here and continues to generate recurrent airplay to this day, which is arguably exactly the kind of legacy it was aiming for.
---