Released: 7th May 2001
Writers: Jörn Friese / Ramon Zenker
Peak position: #4
Chart run: 4-5-12-15-25-35-42-51-70
---
While many dance acts in the early '00s entered the charts with an established vocalist(s), Fragma were something of an exception. Having sifted through Coco Star and Maria Rubia for their first two singles (not without some controversy), they welcomed Damae for You Are Alive. The German singer-songwriter was essentially recruited to be the frontwoman for Fragma, while also conveniently giving them a regular vocalist. It also presented an opportunity for the act to build some consistent brand identity, which isn't easy when you're signed to Positiva Records and every single released through the label features the same cover design.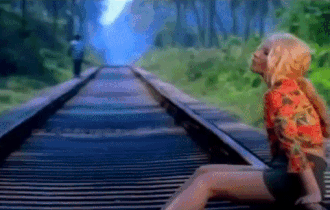 For You Are Alive, Fragma went down the route of a self-help dance anthem. It's not a path well-trodden by dance acts, which may be why this sticks out as quite a distinct effort. Of course, being the early '00s, the topic is dealt with in a broad and non-specific way. Even so, there is a considered effort to craft a song with a social message of sorts. In contrast to the many pop acts singing about idealistic aspirations of finding love and happily ever afters, You Are Alive is a little more grounded. It recognises that bubbling under the surface of the optimistic romanticism of youth was a lot of insecurity and people trying to find their place in the world: "You turn around, you're lost and found, looking for someone who will understand, I'll hold your hand". Truthfully, there's nothing earth-shatteringly profound about the lyrics, but they are enough to position You Are Alive as more than a mindless dance track.
The verses feel dark with their oppressively squelchy electro-beat (and some ghostly wailing at the end of each for good measure), but the trade-off is a chorus that absolutely soars. Arguably, the sentiment of the song is lost somewhat, as Fragma affirm: "On your own and though you feel alone, you are alive". It's not quite the insightful reassurance one might have hoped for, but the shift in tone is palpable; the chorus is uplifting and utterly euphoric. From a production standpoint, it creates a moment of clarity and self-affirmation. The lyrics aren't quite so explicit, but they convey the sentiment, nonetheless.
With the moment of ponderance that You Are Alive brought, the music video was a somewhat less introspective experience. Indeed, it's about as by-the-numbers for a dance track as can be. There's plenty of paddling in the sea with a semi-transparent dress on (which, if nothing else, looks like bloody hard work). As an introduction for Damae into the world of generic dance vocalist, she passes the initiation with flying colours. From writhing around on the beach, tossing her hair from side to side and smearing herself with wet sand through to wandering inquisitively through tropical climes looking effortlessly pretty, Damae approaches the role with vigour and competence.
You Are Alive was another solid hit for Fragma, peaking at #4 and becoming their third consecutive top-five single. Perhaps more notably, the success of the single drove sales of the Toca album. That's a fairly unusual occurrence for dance acts, who often have a notoriously difficult time selling albums in any meaningful number, let alone arresting their chart decline. Fragma proved to be the exception and it's, therefore, something of a surprise that after stringing together a run of hit singles and showing some longevity with Toca, You Are Alive wound up being the last release from the album. It was only seven months before Fragma returned with a brand new single, but evidently, even that was enough time to kill the momentum they'd built up, since this was their last top ten hit in the UK.
---