Released: 28th February 2000
Writers: Gary Haase
Peak position: #15
Chart run: 15-34-49-71-73
---
By the late '90s, pop acts had become extremely disposable commodities. And while that's not to say that Northern Line were launched with no long-term ambition, the limitations of their marketing strategy were immediately exposed with the release of Love On The Northern Line. It was a song that absolutely needed to happen, but also one that fulfilled their purpose. If you name a band after a line on the London Underground, you have to reference it in some way, but what on earth do you do with them once they've done that?   
That soon became clear with the group's next single, but for the time being, Love On The Northern Line was all about delivering a lesson in how to craft a postmodern pop song, and it could not have been better.
For young pop fans living outside of the capital who took Love On The Northern Line at face value, it was utterly mind-blowing to consider that underneath London was a network of trains where people would fall in love, dance around and sing dreamy bops to each other. Suffice to say the reality of the London Underground – standing in an overcrowded carriage with your face in someone's armpit and a rucksack jostled into your abdomen – raises a question of whether the song's composer had indeed ever travelled on the Northern Line.  
What do I have to do, to get closer to you
'Cos I would do anything to make you mine
Near or far, just to be where you are
Tell me who would have thought
I'd find love on the Northern Line
Needless to say then, the song is not grounded in reality. But it is still an undeniable bop.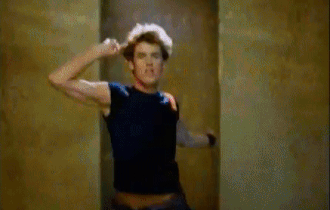 As a self-referential anthem, Love On The Northern Line seizes its opportunity with both hands, even down to the intro, which is just the sound of a train pulling into a station (there isn't an ear-splitting screech as the train stops, but it's a worthy effort, nonetheless). The song then heaps on as many train clichés as it can: "How can I convince you, your next stop should be mine" / "And when this train departs, it's gonna lead you to my heart", and it's all delivered with such sincerity that you almost feel a bit sorry for the group considering just how brilliantly silly the whole thing is. The 'phoned in' effect is employed with gusto for chants like: "Northern Line in the house, one time" throughout the song. One must admire the optimism that this would ever be played in an environment where such statements would make any sense, but we fear it was in vain. The track does have a great chorus though; it's incredibly catchy and hangs together with an uplifting bounce – particularly when buoyed with a smattering of singalong ad-libs towards the climax of the track.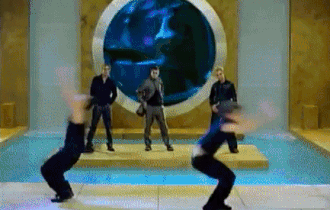 A song like Love On The Northern Line is an absolute gift for any music video director, with a concept that writes itself. Or so you would think – but in this case apparently not. For rather than stick Northern Line on the Northern Line to perform the song, the video instead features the group in an underwater cell that is somewhere between an aquarium and a posh sewer. You'd almost think that everyone involved had turned up to the set, been given an assortment of random props and told to improvise So, it opens with a scientist plugging her headphones into an amp and overloading the system – with absolutely no further exposition as to who she is or what she's doing. The video is then essentially a series of shots of the group dancing – and pulling some hot catalogue model poses (well, you've got to keep all potential career options open). Of course, the underwater setting means that towards the end of the video it starts to rain. And what do you do in that scenario other than start thrashing at your clothes and rubbing yourself erotically? It's not that the video is significantly more obtuse than was normal for the early '00s, but then most other songs didn't have such an overt reference point in their lyrics as Love On The Northern Line.
The single peaked at #15 – a cruel fate for such a loving tribute to one of the country's most famous transit systems. It would, however, turn out to be Northern Line's biggest hit, which is quite fitting. The group's career was short-lived but Love On The Northern Line will forever have a place in our heart – and most certainly our head – for as long as the London Underground continues to operate.
---