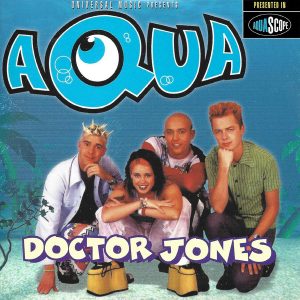 Released: 26th January 1998
Writers: Anders Øland / Søren Rasted / Claus Norreen / René Dif
Peak position: #1
Chart run: 1-1-2-3-6-10-15-25-27-39-34-32-56-74
---
Trying to follow up a global smash-hit is no easy feat. But few acts have been more misunderstood in their quest to do so than Aqua.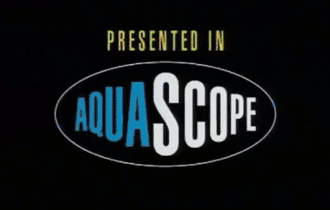 Doctor Jones was an important single for the group. Not just in terms of elongating their success beyond that of Barbie Girl but proving that there was more to them than just a cartoon pop gimmick. Granted, it's a futile debate to have in many circles – so big and so caricatured was their signature hit, that the notion of Aqua as genuinely talented purveyors of pop music would be inconceivable.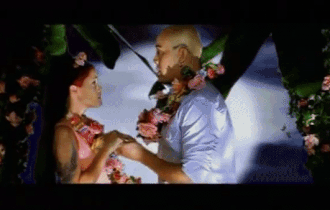 But you need only look at the inability of acts like Cartoons or Fast Food Rockers to move far beyond a solitary hit to see that Aqua had more substance – albeit presented in as absurd a manner as you could get, even by '90s pop standards.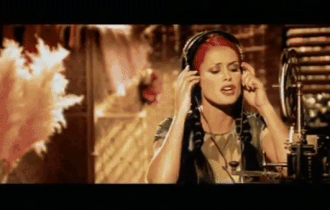 In terms of the quality of the songwriting, Doctor Jones has hooks for days – it's an embarrassment of riches, with more in three and a half minutes than some entire pop albums manage as a whole. Each section of the song in is crafted with remarkable consistency: the pre-chorus "Baby, I am missing you, I want you by my side, and I hope you'll miss me too, come back and stay"; the post-chorus "Ah yippie yi yu, ah yippie yi yeah"; the middle-eight "Please, please cure me" – perhaps knowing that there was a certain degree of expectation upon them, Aqua allowed little opportunity for the listener to do anything other than submit (wilfully or otherwise) under the weight of a relentless procession of hooks.
Swimming amidst a sea of killer hooks is the chorus, which at times feels almost a little forgotten. It's testament to the rest of the song being so good that this winds up being the case, rather than the chorus itself being poor. But if you go hunting for the moments in Doctor Jones where the melody really bites, they tend to happen around the chorus rather than within it. It's certainly not redundant to proceedings though and the: "wake up now" hook is another imperative element in the overall construction of the song.
Vocally, there is most certainly an element of method acting from Lene and René. Lene delivers her part with a hint of peril evident in her voice, whilst René's Doctor Jones sounds a little more assured when compared to his take on Ken. It's a small detail, but it's one that demonstrates an attempt to get underneath the characters and give a sense of purpose to an otherwise bonkers concept.
Now the summer is gone
You had to go back home
Please come and see me again
I've never felt more alone
Critical to the overall package here is the music video. And Doctor Jones finds Aqua this time on Indiana Jones territory – although wisely not so closely as to land themselves with yet another copyright lawsuit. As a visual affair, the song works a treat and curiously manages to look simultaneously big-budget and notoriously cheap. You'd certainly imagine though that the jungle scenes took quite a bit of effort to put together, and there's an effort to give the video a narrative that in turn makes the songs lyrics a little more sensical. Yes, it does absolutely nothing to dispel the notion that Aqua were making cartoon pop music for kids, but even if that were the case, there would still be a lot more thought and effort put into it than later copycat efforts would muster.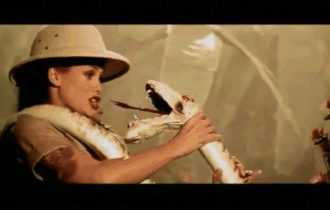 Owing to the momentum surrounding their previous single – and the fact that we really were in the realms of pop music at its maddest – it was not a huge surprise that Doctor Jones repeated the success of Barbie Girl and reached #1. But to suggest that this was merely a kneejerk reaction hit does the single a disservice; Doctor Jones was actually a big hit in its own right, spending two weeks at #1 and selling over 600,000 copies (the 12th biggest seller of 1998). Perhaps more importantly for Aqua, the single drove sales of their debut album and saw it break into the UK top ten for the first time.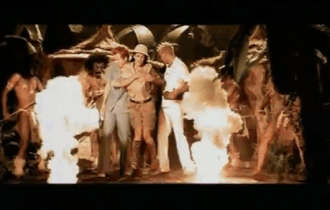 Invariably, Doctor Jones – like any other single Aqua released – will always be a footnote in their career compared to Barbie Girl. But without their signature hit, they wouldn't have had the commercial platform to release a song like Doctor Jones, much less see it become a success. In the context of Aqua, this single makes perfect sense – but without prior introduction, it may well have been nothing more than a puzzling curio.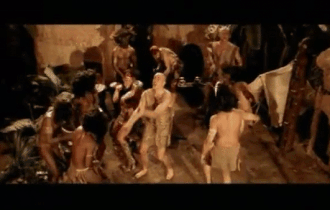 So, by early 1998 we knew that Aqua were here to stay – at least for the duration of their debut album. Having established a sizeable market for their unique brand of pop, one could only imagine what they'd do next. As it turns out, something quite unexpected…
---